Development Cooperation
SIDID – Système d'information déchets industriels
Animation film promoting the online tracking system für hazardous waste in Morocco.
Client: Deutsche Gesellschaft für technische Zusammenarbeit GTZ, Programme de l'Environnement, Hazardouos Waste Project.
Morocco 2011, HD, 13 Min. | A film by Julien Biere. Illustration: Mathias Schlüter, After Effects: Andi Platen
Entreprises Pilotes
Promoting the environmental convention for Tunisian entrepreneurs.
Client: Deutsche Gesellschaft für technische Zusammenarbeit GTZ, Projet de Gestion de l'Environnement.
Tunisia 2001, DV, 10 Min. | A film by Julien Biere. Assistant: Brigitte Weidmann
Reserve de la Biosphère de l'Arganeraie
Argan Biosphere Reserve


Presentation of the Argan Biosphere Reserve for Expo 2000 Hanover.
Client: GTZ Project "Protection et Conservation de l'Arganeraie" PCDA, Agadir.
Video documentary, CD and online.
Morocco 2000, DV, 30 Min. | A film by Julien Biere. Camera/Editor: Rainer Harjes, Assistant: Brigitte Weidmann.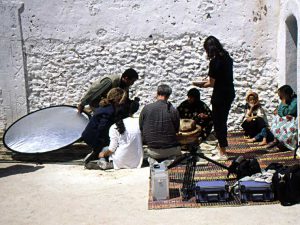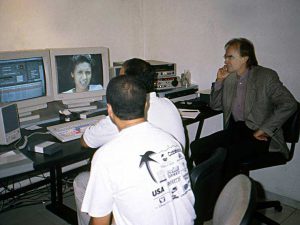 Salha – Le couvercle Tabouna
TV promotion spot for energy saving stove.
Client: Tunisian Energy Agency AME and GTZ.
Tunisia 1996, Betacam, 2:20 | A film by Julien Biere.
Below an extremely down-sized copy (320x240px).
Interactive Multimedia-CDs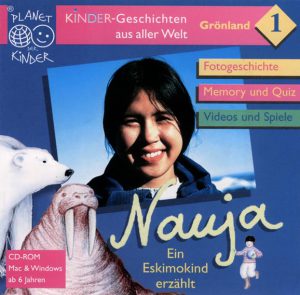 The Zimbabwe Experience | Simbabwe entdecken
Within the framework of the twinning programme between the capital cities of Harare and Munich, this inventive and entertaining multimedia CD aimed at becoming a multimedia guide to culture, nature and society in Zimbabwe. Sponsored by the German Federal Ministry for Economic Co-operation and Development (BMZ) and the City of Munich. Director/producer: Julien Biere. Photography: Brigitte Weidmann. Graphic Design: Lydia di Bernardo. Music: Keith Goddard. Deutsch/English. Verlag Weidmann & Biere Publishing, 1998
Planet der Kinder, Vol. 1: Nauja, das Eskimokind
Children's Planet, Vol. 1: Nauja, The Inuit Kid. Story by anthropologist Christian Adler. Edutainment disc for intercultural learning. Director/producer: Julien Biere. Graphic Design: Lydia di Bernardo. Verlag Weidmann & Biere Publishing, 1995
BodyArt Portfolio CD
111 masterpieces of modern nude photo art by Hungarian photo artists Zseni Jung & János Eifert. Director/producer: Julien Biere. Portfolio CD with photos and soundtrack plus Photo Book. Verlag Photographie, 1994
Audiovisuals/Multi-Image Shows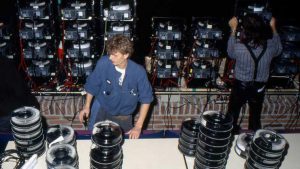 Commisioned work
Siemens Sinumerik Sinudrive
4-projector single-screen animation show for Hanover Fair. Client: SIEMENS
Nothing Compares to You
12-projector 4-screen panorama + lasershow for World Ski Federation (FIS) conference in Montreux. Client: Fremdenverkehrsverband Garmisch-Partenkirchen.
The Living Planet
4-projector single-screen show for Photokina Cologne 1980. Client: OLYMUS OPTICAL Co.
German Appropiate Technology Exchange – GATE
2-projector audiovisual show for Hanover Fair. Client: GTZ.
Die Disco-Dia-Show
Audiovisual / Video. Client: Bundeszentrale für gesundheitliche Aufklärung BZgA (Federal Ministry of Health and Family).
Energiesparen im privaten Wohnungsbau
7-projector single-screen multi-image show for Energy Saving Centre of the City of Munich. Client: Environment Department, City of Munich.
Geschichte der Hamburger Arbeiterbewegung
Audiovisual. Client: Institut für Film und Bild FWU (Federal institute for didactic audiovisual media).
 

Non-commissioned work
The Power of Multi-Image
8-projector Single-Screen Multi-Image Show
Corsica
6-projector 3-screen panorama show, live performance with Corsican group "Caramusa" in concert
Die letzten Tage der Wälder
Media package/audiovisual & video.
Blick nach innen
3-projector mandala meditation. In collaboration with modern art mandala painter Mahirwan Mamtami
Jamaica – der bittere Zucker
3-part media package: audiovisuals + book
Angst in der Schule
Media package: audiovisual + didactic print media
Die Erfindung der Familie
Media package: 3-part audiovisual / video
Eines Tages werdet Ihr erwachen – die Rede des Häuptling Seattle
Audiovisual
Die saure Geschichte der süßen Banane
Audiovisual